Welcome Message from the Organizing Committees ICMSS 中文页面
Dear Participants of ICMSS 2023,
The International Conference on Management Engineering, Software Engineering and Service Sciences (ICMSS) is an annual academic event held once a year. ICMSS 2023 Conference will be held during Jan. 6-8, 2023 in Wuhan, China.
It is sponsored by Wuhan University, China, hosted by School of Computer Science of Wuhan University, supported by University of Geoscience(Wuhan), China, etc. The aim of this conference is to provide a forum for the presentation and discussion of emerging management engineering, software engineering and service sciences and for professional interactions. Additionally, it serves as a conduit for channeling advanced technology to the regional industry.

On behalf of the organizing committees, it is our pleasure and honor to invite you to attend ICMSS 2023 in Wuhan, China.

In addition to the high technical standard expected of this conference, ICMSS 2023 Conference aims to give all participants a real taste of the true Chinese culture in the beautiful Wuhan. The dedicated conference teams are currently working hard on making this conference not only intellectually stimulating but also an unforgettable pleasant experience.
We look forward to welcome you in ICMSS 2023 conference and wish you a fruitful and enjoyable stay in Wuhan.
ICMSS会议已于2017-2020年在武汉,2021年与2022年以全网络的形式(因新冠疫情)成功举办,感谢大家的参与。2017-2021年的ACM会议论文集都已被ACM Digital Library收录并实现EI核心和Scopu检索。
同时欢迎大家参加2023年第七届管理工程、软件工程与服务科学国际会议(ICMSS 2023),该会议由中国地质大学(武汉), 武汉大学等联合支持。本次会议将于2023年1月6-8日在武汉召开。
仅代表大会组委会,欢迎各界人士参加这次盛会,并领略美丽的武汉。
ICMSS 2023 Organizing Committees

About Paper Publication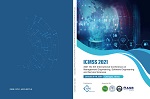 Accepted and presented papers will be published into ICMSS 2023 Conference proceeding, and submitted to IEEE Xplore™ for indexing by Ei Compendex and Scopus Index., like the previous 6 years.
如往届会议一样, 大会录用论文将出版到ICMSS 2023会议论文集,该论文集将提交IEEE Xplore上线,并提交Ei核心,Scopus等检索。
Welcome you to submit the paper or abstract by Electronic submission system or conference email (Email: icmss_icmss@163.com).
Good News! All papers published on ICMSS2022 conference proceeding are online available into IEEE xplore(Click)
Note: Any paper which is accepted to the conference and is included in the final program is expected to be presented at the conference during its scheduled presentation date and time by at least 1 paper author.
Listener Quick Registration听众快捷注册
(Click)
If you'd like to attend the conference without paper publication nor presentation, welcome you to register as the listener. Please click the above button to make the quick registration and return us the payment proof within 3 working days by email: icmss_icmss@163.com. For registration fee, please click.
如只参会不发表文章以及作报告,欢迎注册为听众。请点击以上的听众注册链接进行快速注册。注册完成后,请通过邮件将您的付款信息发送到会议邮箱(icmss_icmss@163.com),以便查询您的注册是否成功。
Note: Your registration will be successful until receive the confirmation from the conference secretary.
Latest News!
July 26, 2022. Notification!
The submission deadline has been extended to August 30, 2022. Welcome you to submit the paper or abstract.
March 18, 2022. Good news!
ICMSS 2023 will be held in Wuhan, China during January 6-8, 2023!
August 17, 2021. Good news!
Welcome Dr. Rushit Dave and Assoc. Prof. Hongji Ouyang, XianYang Normal University, China to join in our technical program committees. (Read more)
August 13, 2021. Good news!
ICMSS 2021 ACM Conference Proceedings(ISBN: 978-1-4503-8970-9) has been indexed by Ei Compendex and Scopus already. (Read more)
July 26, 2021. Good news!
ICMSS 2021 ACM Conference Proceedings (ISBN: 978-1-4503-8970-9) has been online in ACM Digital Library already. (Read more)
_________________________________________________________________________________________________